October 24, 2022
Our top 10 Reusable Christmas Advent Calendar fillers for every member of the family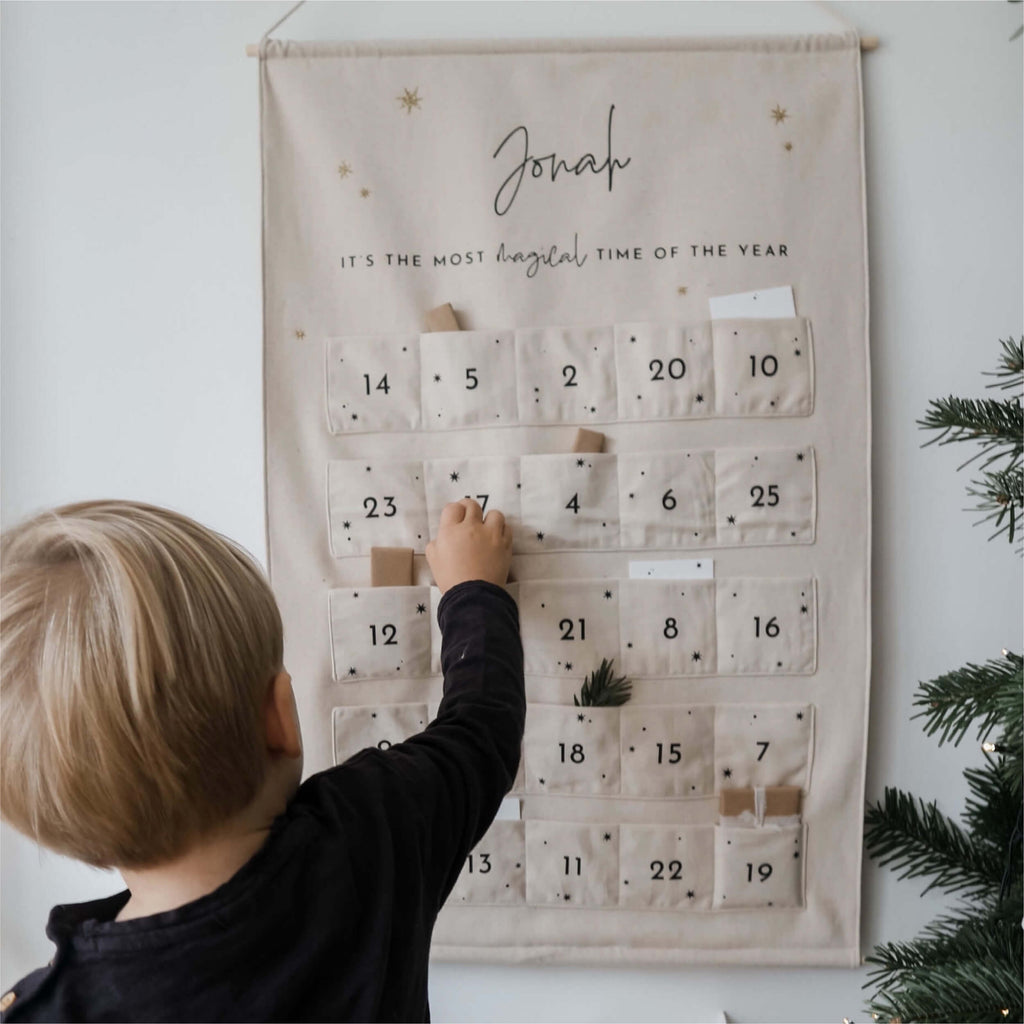 One of my favourite Christmas traditions has got to be an Advent Calendar. Having a little treat every day throughout December is the perfect build up to Christmas day. However, thinking of what to add to each day can prove to be a little tricky sometimes. So we've put together a list of our favourite things to add to your reusable advent calendar.
1. Edible treats - It's the obvious choice but with a reusable advent calendar you can add a variety of their favourite sweet and savoury snacks to make it a little more personal. 
2. Stickers and stationery - From fun stickers and washi tapes to beautiful notecards and highlighters for the creative person in your life.
3. Hair and beauty - Perfect for kids or adults, there's so many options for adding some cute little hair and beauty bits to their calendar. Nail varnish, mini lip balms, hair clips, the list is endless!
4. Toy Cars - This is what I will mostly be putting in my little boys advent calendar this year! And they don't need to cost a fortune, you can usually find lots of little toy cars in your local charity shop for around 50p each.
5. Flower seeds - For the green fingered person in your life why not add some unique packs of flower or vegetable seeds.
6. Luxury tea or coffee - What better way to wake up every morning than to a new tea or coffee to try from your advent calendar?
7. Lego - Why not buy a box of lego or a model and add a few pieces to each pocket for them to build throughout December.
8. Essential oils - If they're in need of a bit of relaxation in the final month of the year then bottles of essential oils are the perfect little addition to their advent calendar.
9. Jewellery - Whether it's handmade friendship bracelets and play jewellery for the kids or some beautiful earrings for the adults, everyone loves a bit of jewellery!
10. Activity cards - Obviously I had to add our activity cards to the list as they really are the perfect extra addition to your advent calendar. With easy and do-able activities to do throughout December. Available here.
Extra ideas
If you have some items you want to include in your advent calendar but they're just a little bit too big for the pockets then why not turn it into a fun treasure hunt? Write a little clue on a piece of paper to pop in the pocket and let them go hunting for their gift adding an extra bit of fun to the day.
This one is a little different as its a fun thing to add back into your calendar at the end of each day. Take a cute Instax photo of a simple moment in the day or a memory of the activity for the day. By Christmas day you'll have a whole month of photos and memories to look back on.
Each day doesn't have to be an expensive or extravagant gift. My top tip is to buy little bits and bobs in the months leading up to December so it doesn't feel like you have a big shopping trip for 25 items. Also make sure you check out local charity shops as there's always great little toys that need a new home for very little money. 
Most of all remember that putting together a special advent calendar for your family is supposed to be fun! Don't let the pressure of finding something amazing to go in each day get the better of you, if all else fails they'll definitely be happy with their favourite chocolate!
And if you still need to get your hands on our Personalised reusable advent Calendar then you only have until 11pm on the 1st November. Shop the calendar and activity cards here.